ISC Premier Soccer Camp 2023
Open to Boys and Girls 7U-15U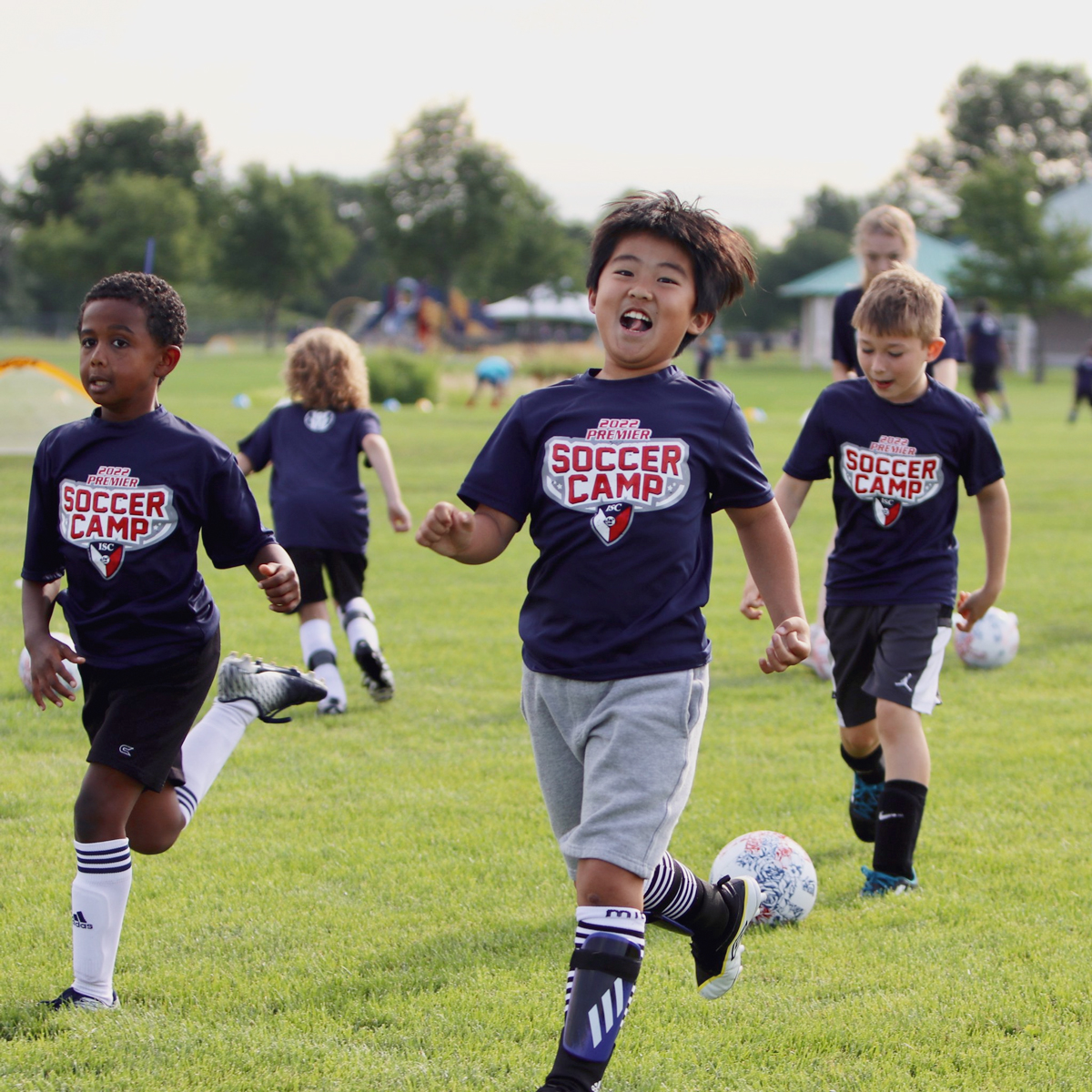 Join the Iowa Soccer Club for our annual summer Premier Soccer Camp, held every year since 1998.  Our club is proud to offer the highest quality instruction possible in Eastern Iowa. The focus for our camp is to provide players with expert coaching for all ages at camp and to also make sure that the camp experience is FUN and MEMORABLE.
ISC Summer Camp Dates:  July 10-14, 2023
Camp Location: Iowa City Kickers Soccer Complex
What Makes the ISC Camp Special?
Qualified Coaches that are dedicated to teaching and making the camp fun! We have our most qualified ISC coaches work at the camp and we also bring in expert coaches from across Iowa and the Midwest. Our Director of Coaching, Jon Cook, has refined the camp curriculum over the past 24 years to ensure that the activities  are age appropriate and engaging for all levels of youth players.   Our camp is highly organized and all coaches have a clear idea what the teaching goals are for each day at camp.  Most importantly though, we strive to make sure that kids have fun while learning!
Registration Information
Registration Will Open on February 14, 2023 at 11 AM.
Registration Deadline: June 12, 2023.
Please note that we only accept 225 campers.  If we reach 225 campers prior to June 14, registration will close once we are full.
We do not accept walk-up registration at the ISC Summer Camp.
All registration must be completed online.

Camp Structure.
Start and End time for Camp:  The camp starts at 8:00 AM each day and will end each day at 12:30 PM for all age groups.
What ages are eligible to attend camp.?  Available to campers who are 7U-15U players.  A 7U player means that they were born in 2016.  Therefore, the ISC Camp is open to kids born in the years from from 2008 to 2016.
We do not have options for kids to register for a partial week.
Campers need to provide their own snacks, water bottle, and any sports drinks for breaks between activities.
2023 Camp Cost

$190 Per Player.  We do not offer a discount for multiple children registered.
If your child qualifies for free and reduced lunch please contact us for a discounted registration price at jon.cook@iowasoccerclub.com.
Camp Services Included
Expert coaching
Camp t-shirt
Soccer ball
Camp awards
Large shade tent
Water coolers refilled all day
2023 Camp Directors
Camp Director – Jon Cook 
Coaching Experience:
Director of Coaching for the ISC from 2000 to present.
United States Soccer Federation "A" License Coach and USSF National Youth License
USSF Grassroots Instructor License
Former Olympic Development Coach
ISC Camp Director for 23 years.
Master's Degree in Education – University of Iowa
Division I Collegiate Soccer Player at University of Missouri-Kansas City
Assistant Camp Director – Brendan Johnson
Coaching Experience:
ISC Staff Coach for 4 years.
USSF Soccer "C" License Coach
Former Collegiate Player at William Penn University.
Additional Camp Opportunities
Early Bird Skills Training – Optional Training With Jon Cook

6:30 AM to 7:30 AM – Recommended for players with experience in competitive soccer!
"Early Bird Skills" is one hour of intense skills training offered on Monday, Tuesday, Thursday, and Friday morning. It includes specialized individual ball skill training along with a strong focus on technique training, which are the building blocks for successful soccer development.
Your child must be at least 8 years old to participate and it is mix of all ages training together.
ISC does not recommend this program for your child if it is their first year at the ISC Camp, and this is not a "drop off early" service for working parents.
If you come to "early bird" on the first day, you will need to bring your own ball, because we won't have the camp balls ready to distribute that early in the day.
No separate sign up is needed for the "Early Bird," nor is there an extra fee to participate. Players  should attend on the days that they feel like participating.
Rain Out Refund Policy
If 2 camp days or more are rained out, a partial refund will be sent to the families.  A refund will not be distributed if only one day is rained out. We do not issue refunds if you register and then pull your child out of camp.
Questions?
Please contact camp director Jon Cook at jon.cook@iowasoccerclub.com